---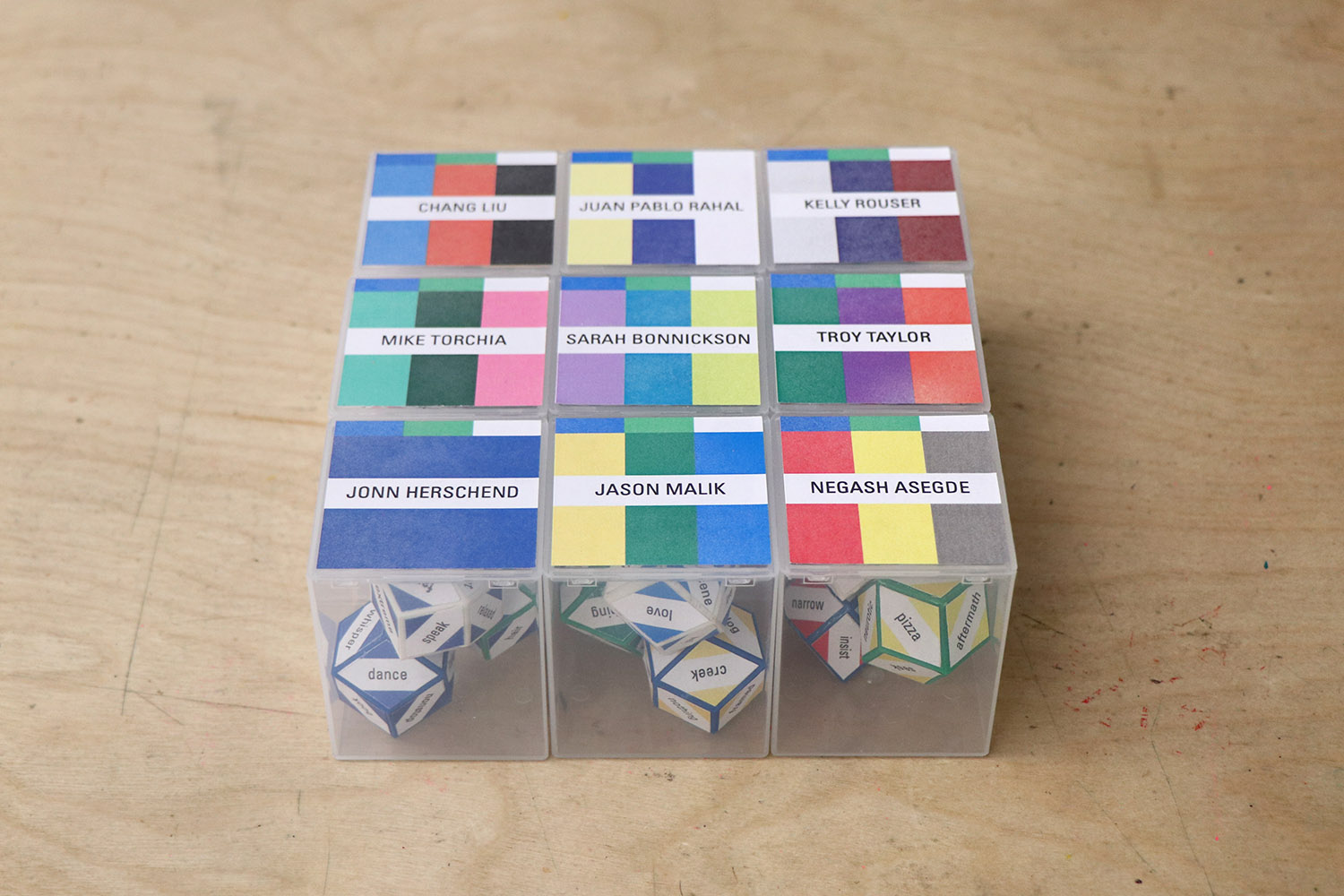 📖 EDITORIAL | ⚙️ OBJECT / TOOL

Edition: Personal/Social

---

As part of a course exploring alternative forms in publishing, I was tasked with creating an edition that would be distributed to the other students in the class. Because this would be a small run edition of only nine copies, I saw it as an opportunity to make each copy unique to its recipient.

I created a questionnaire that I distributed to my classmates that asked a series of extremely personal questions related to their past, present, and imagined future. The questionnaire instructed them to answer each question in the form of a single word: this protected their privacy when sharing intimate information, and also created a personally evocative lexicon that could be brought into dialogue with the collective lexicon of the entire group.

Each edition consisted of three personalized objects in the shape of rhombic dodecahedrons, which can tessellate in any direction. Every face of the dodecahedrons was assigned a word generated from the surveys, so that each personalized set represented an individually meaningful collection of signifiers recalling the past, present and future.

I also embedded magnets into the surfaces of each dodecahedron, so they could be tessellated and constructed into a sculptural web of words. The process of constructing deliberate or random juxtapositions between connotative words allowed for associations to emerge in unexpected ways. Additionally, when each person brought their individual objects to the group, it became possible to explore the connections and contrasts that existed within the overall lexicon of the class: creating sculptural word clouds that were at once highly personal and esoteric. Personalized color codification helped people to identify their own dodecahedrons even if they were mixed in with others'.

On the day of distribution, my classmates also discovered another use for their set of shapes, which was to use them like idea-generating dice. Tossing the shapes like dice would produce a random assortment of words that could then be treated like an abstract prompt. I was delighted when several weeks after receiving the edition, a classmate told me they had used their "dice" to get past a creative block.